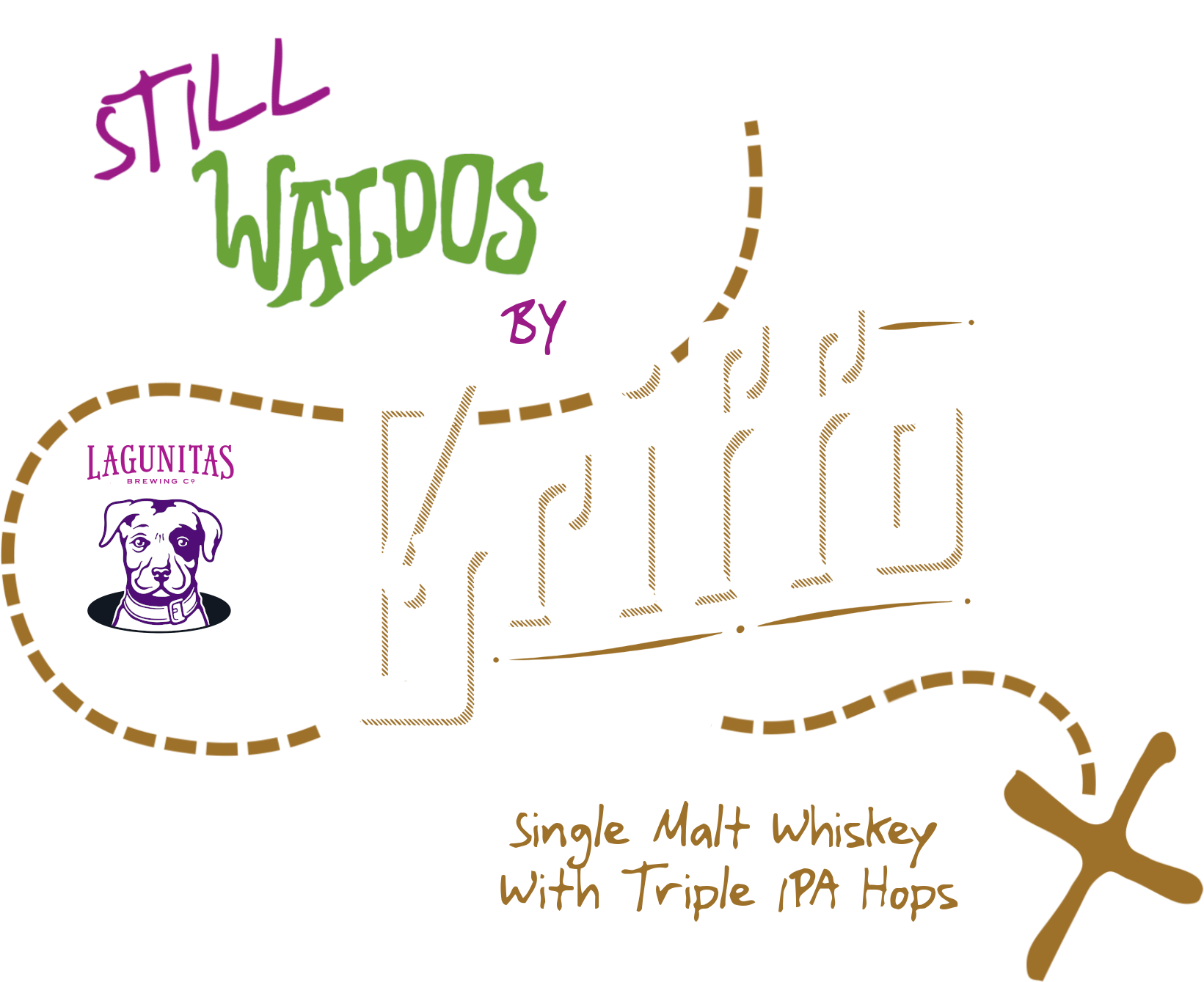 Beer Speaks, Whiskey Sings
Lagunitas Brewing Co. and Griffo Distillery have been longtime friends and neighbors. So, when Covid hit and the world flipped upside down, Head Brewer Jeremy Marshall and Head Distiller Mike Griffo sat down in the Griffo barrel room to figure out how, as leaders in their fields, they might innovate through uncertain times. Jeremy knew beer and Mike knew whiskey. In a brilliant, alcohol-filled moment of Wonka-Vision, they dreamed up distilling a version of Waldos Triple IPA beer - the beloved, quick to sell out, high ABV beer with big floral notes - as the perfect experiment. Jeremy would pull the hops from the fermentation process and then Mike would add them to his still - maximizing flavor and aromatics. They cheersed to it, and "Still Waldos'" was born. 
So how does a Triple IPA become a Single Malt Whiskey? We thought you'd never ask: 
This spirit's journey begins at Lagunitas where Jeremy and his team create the epic Waldos mash using 100% malted barley. The unfermented mash takes a half block trip to Griffo later and Mike and his team are ready to take over. They ferment the mash and add the Waldos' hops to the copper pot still before running it through the still two separate times. The spirit is then proofed down to 120 and put into a large American Oak cask made by famed French cooperage Seguin Moreau. 
After a few years aging, the spirit that is
Still Waldos
  is ready – soft, floral, hoppy and delicious. Ideally enjoyed with a bottle of Waldos beer! And that is how this beautifully balanced spirit was born. 
As Lagunitas so often says,
It's Good to Have Friends!
Made with the finest, locally sourced ingredients. Griffo's small-batch spirits are handcrafted from start to finish in Petaluma, California. The award-winning distillery is owned and operated by husband and wife duo, Michael and Jenny Griffo. From formal analysis to custom still controls of their own design, the Griffos infuse every step of the spirit-making process with ingenuity and precision–merging craft and science to create spirits that are both beautiful and complex. 

The Lagunitas Brewing Company began on a kitchen stove in Northern California in 1993 and has been crafting hop-forward beers ever since. Welcoming the open-minded with open taps and simple truths: Beer Speaks (for itself), Life Is Uncertain (don't sip), and It's Good To Have Friends. To quote our BrewMonster, "Lagunitas is made up of all kinds and creeds; punk rockers, misfits, ivy leaguers, weirdos, Waldos, Sparkle Ponies, Musicians, and everything in between … Just a pack of stray dogs that found—despite our vast and wild differences—that the love and respect for the freedom to be different is what brought us together and made it all work." Whether we're supporting local communities by turning beer into money for the cause, or simply fueling stories and songs with IPA and other creations—we always have a spot for you at our bar. Come as you are. And bring your dog, too.
Powered by AZEXO Shopify page builder